Like other materials, adhesives are typically organized by their application and mechanism of adhesion according to the type of a material. Depending on their chemistries, some adhesives can be generally used for a variety of materials whereas others are more suitable to metals or plastics.
Choosing the right adhesives can meet your requirements and business needs for optimal clinging and suitable price. Close cooperation with adhesive tapes manufacturers (3M, Tesa, etc) enables us to find the most effective solutions for all our customers. More and more materials have already been tested in accordance with numerous standards and rules of automotive and other industries, thus facilitating various options and delivery times.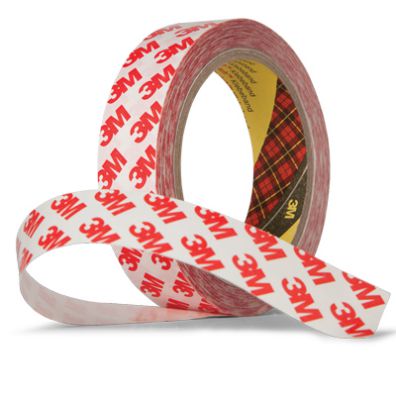 Adhesive tapes are classified into one sided and double sided and can be further divided according to a type of adhesive and a kind of carrier.
Choosing the most appropriate adhesive tape depends on their application and environmental impacts. Get the basic facts about a variety of adhesive tapes, their applications and storage conditions on our web site.
Adhesive bonding is the result of intermolecular residual adhesive force interactions between a adhesive and a surface. Magnitude of an adhesive force depends on a surface energy of the material as well as on its wettability – to achieve an optimal clinging, an adhesive should spread across the surface and wet the material layer being used on.
By choosing the right adhesive tape, we can achieve optimal clinging, optimal price and best performance of a material. Adhesive tapes have been developed for specific purposes so selection of the adhesive is one of the keys to a successful functionality of a product. We should pay special attention to the following:
Compatibilitybetween materials/surfaces, onto which we want to stick (metal, plastics, wood, fabric, …), and an adhesive tape;
Exposureto atmospheric environment (external and internal use, moisture, UV, temperature, …): inappropriate choice can lead to faster tape and adhesion aging and consequently to weak bondage of materials;
Coating temperatureand temperature at further use (extremely low or high temperature, quick and high temperature changes);
Exposure to chemicals(oils, acids, bases, …);
Required time to reach 100% adhesion(some adhesives reach full strength after 48 hours);
Expiry timeof stuck parts;
Removal of adhesiveafter completed application (should we want to remove an adhesive tape completely, adhesion sticks on a carrier or adhesive surface);
Forcesacting on adhesive components (tension, shear, compression);
Exposure to mechanical impacts;
Application methodof adhesion tapes.
One sided and double sided adhesive tapes are divided according to:
Type of carrier
Foam:suitable for adhesion on uneven surfaces
Fabric:waterproof, tearable
Polyesther:extremely tough, non-elastic, transparent
Small net:good clingability, non-elastic
No carrier:thin layer, transparent, resilient
Type of adhesive
Water-based acrylic: adhesives based on acrylic polymers  and water–based additives; suitable for adhesion to most substances.
Sustainability of adhesion is a few years
Suitable for use at temperatues up to 90°C
Suitable for external use
Hot melt:a mixture of synthetic rubber, carbonhydrogen, natural resin and various additives, suitable for adhesion to most materials.
Sustainability: 1-2 years
Suitable for use at temperatures up to 60°C
Conditionally suitable for external use
Suitable for use at high temperatures
Suitable for moisture and humudity
Suitable for low-energy surfaces
Application and storage
Physical and outer properties of adhesive tapes change over time. The shelf life of adhesive tapes depends on their exposure to surrounding conditions.
Storage:
Storage temperature 15 – 25 °C*
Humidity <65%*
Protected from direct sunlight or solar radiation
Adhesive tapes must be stored in a dry location, above the ground, ideally on palettes or shelves.
Most adhesive tapes manufacturers guarantee optimum stability of adhesive tapes for 12 months.*
*These values are dependent on the tape type and manufacturer. Always refer to the technical specification of the material!
Basic rules of adhesive tape application and use
Right choice of a tape – the adhesive and the materials should be chosen based on the surfaces and end-use of a products.
Proper adhesive storage and use will assure best properties.
Adhesive tape should be applied on a clean area and free from dust, grease or adhesive residues.
Protective film should be removed just before use.
Contact with the adhesive layer should be avoided by using protective equipment.
Adhesive tape must be applied with appropriate and even pressure (10 N/mm2) all over the surface.
Ultimate bond strength is mainly achieved in 48 hours.
PLADENT d.o.o.
VAT: SI51492342
IBAN: SI0510 0800 0067 019